Looking for an easy to make a recipe that does not require hours of work in the kitchen? Steakburger is the perfect choice for you.
What could be better than a juicy beef pile with caramelized onions? You can grill them, fry them, and top them with whatever. If you ever had a boring steak burger before, then we are going to help you to make something far better than those commercial steak burgers you buy at the supermarket. And most importantly, you will know some tips for making the ultimate steak burger.
Before we get into the process of making your steak burger, let's dive into a little bit of history of steak burger.
A steak burger is a type of sandwich prepared using steak as a primary ingredient and is considered to be one of the oldest processed food. The use of the term 'Steak burger' dates to the 1920s in the United States of America. In 1934, A.H Gus, the founder of 'Steak n Shake' devised a steak burger and offered it to the customers at the company's first location in Normal, IL.
Beefsteak is typically used, although other meats can also be made into steak burgers. They may be prepared with various accompanied and toppings. This steak burger used a combination of ground meat from the strip portion of T-bone steak and sirloin steak in its preparation.
Read this step-by-step method involved in making a great steak burger.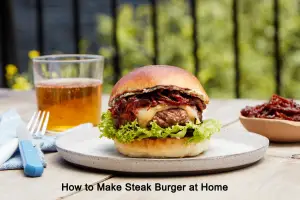 Part 1: Making the Tangy Caramelized Onions:
Step 1: Heat the oil in a skillet over medium-high heat. Add sliced onions, ½ salt, and ¼ pepper, and cook them for about 5 minutes until the onions are softened and brown. Stir occasionally.
Step 2: Reduce heat. Add tomato paste and cook it for another 30 seconds.
Step 3: Add Worcestershire, vinegar, butter, and brown sugar. Continue to cook by adding a tablespoonful of water until onions and tomatoes are completely softened and caramelized. Let it cool.
Part 2: Making the Herb Butter
Step 4: Cook the shallot and vinegar in a skillet over medium-high heat. Stir them occasionally until the vinegar has reduced and skillet becomes dry. Transfer them to a small bowl and let it cool.
Step 5: Place butter and salt in a small bowl. Mash the shallot mixture into the butter, using a fork. Gently fold in parsley or tarragon. Keep it aside until ready to use.
Part 3: Making the Burger:
Step 6: Divide the ground steak into four even, separate pieces. Firmly roll these pieces into balls.
Step 7: Indent the middle of each ball by using your thumb. This helps to keep it flat as it grills. Flatten them into patties.
Step 8: Season both sides of the patties with salt and pepper.
Step 9: Place a grill pan with oil grates over medium-high heat. Grill the indented side down until lightly charred on the bottom for 3 minutes.
Step 10: Top with cheese and continue to grill to the desired doneness. Once done, transfer the burgers in a plate.
Step 11: Grill the buns until toasted for about 30 seconds. Cut the bun into two halves and spread the herb butter into it.
Step 12: Top each bottom of the bun with lettuce leaves, patty, and 3 tablespoons of caramelized onions. Close the burger. Serve immediately.
INGREDIENTS
For the Caramelized Onions:
2 tbsp vegetable oil
2 medium onions, thinly sliced
1/2 tsp salt
1/4 tsp freshly ground black pepper
2 tbsp tomato paste
3 tbsp Worcestershire sauce
2 tbsp white wine vinegar
2 tbsp unsalted butter
1 tbsp light brown sugar
For the Herb Butter (optional):
1/4 cup white wine vinegar
2 tbsp finely chopped shallot
1/2 cup unsalted butter
1/4 tsp kosher salt
1 tbsp finely chopped parsley tarragon
For the burger:
1 dry-aged steak, coarsely ground
vegetable oil, such as grapeseed
Kosher salt
freshly ground black pepper
4 slices of white cheddar cheese
4 high-quality hamburger buns
green leaf lettuce
TIPS
The secret to cooking the perfect steak burger is to heat the pan and olive oil until it is flaming hot.
Cook the patties for around 2 minutes on each side, depending on the thickness of the meat. Flip it every 15 seconds and repeat the process for about 3 minutes. It will be crispy on the outside while being tender in the middle.
Sweet and sticky caramelized onion is a delicious addition to your creation. You can also caramelize onions with balsamic, white wine, or red wine vinegar.
Always choose a good-quality burger bun.
Say no to the knife and keep your silver cutlery in the drawer. The only way to enjoy eating your burgers is with both hands. Don't be shy and dig into it with both hands.