Want a sweet, savory, smoky, and tangy bite? Then, dressing is all you need to add to your burger. Burger Sauce or Dressing is basically a creamy sauce made with a combination of ketchup and mayonnaise with additional mix-ins that make it unique and give it extra flavor. However everyone has their secret recipe, but the essential ingredients are mayonnaise (for creaminess), ketchup (for sweetness), pickle relish or juice (for tartness), sriracha or hot sauce (for heat), and spices (for smokiness and depth). So, let's look at how to make dressing for burgers.
Burger sauce keeps your burger from being dry and provides sharpness, tanginess, sweetness, or creaminess to your burger, helping to cut through all the richness. You can make it within a few minutes with the available ingredients in your home. The classic burger dressing can be made with mayonnaise or mayo.
How to Make Dressing for Burgers?
With just 7 or 8 ingredients, you can make dressing for burgers. Its flavor is sweet and tangy, creamy with a little crunch which is a perfect topping for every kind of burger. But, not just burgers, you can dip the fries and chicken tenders in this sauce.
Ingredients:
1 cup mayonnaise
2 tablespoon ketchup
2 tablespoon sweet pickle relish
2 teaspoon mustard (Dijon or yellow)
2 teaspoon sriracha or hot sauce (optional)
1/2 teaspoon ground black pepper
1/2 teaspoon smoked paprika
1/4 teaspoon Worcestershire sauce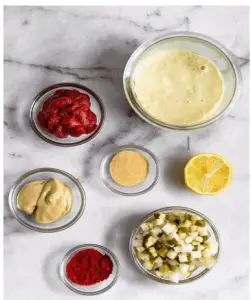 Preparation of sauce or Dressing for Burgers:
Add the mayonnaise, ketchup, sweet pickle relish, mustard, smoked paprika, salt, Worcestershire sauce, and black pepper into a small bowl.
Stir the ingredients together until they're thoroughly combined.
Cover and store in the fridge. Let the sauce sit in the refrigerator for 1 to 2 hours for the best flavor. You can store the sauce for up to about 2 weeks.
You can serve it on burgers, sandwiches, and wraps and use it as a dip for French fries. Enjoy!
Note: Instead of using store-bought mayonnaise, you can simply make them in your home. Remember to sauce both sides of the bun, and be generous. Use at least a teaspoon on each side. Mix and match sauces on the top and bottom to add more flavors to your burger.
Take a look at some ingredients to add some variations to your burger sauce:
Mustard: Some burger sauce recipes use about 1 tablespoon of mustard. You can feel free to add mustard to the sauce. Also, you can try adding regular or Dijon mustard to the recipe.
Pickle juice: If you prefer the sweetness of the sweet pickle juice, you can add it to your burger sauce. It complements the zing of the ketchup, but if you like the tang of dill pickle juice, that will work just as well. You can also sub the pickle juice for about 1-2 tablespoons of sweet or dill pickle relish if you prefer a slight crunchiness.
Paprika: Paprika will add smoky flavor to your recipe. However, if you only have regular paprika, that will work too. If you like your sauce with a kick of heat, add 1/8 to 1/4 teaspoon of ground cayenne pepper.
How to Make Mayonnaise?
Homemade mayonnaise is very easy to make as you only need a handful of ingredients, most of them being pantry staples. First, check the ingredients you will need to make homemade mayonnaise. You will need a sturdy wire whisk and bowl with high sides to prevent splashes.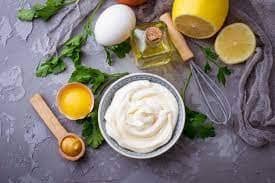 Ingredients:
2 large eggs
2 teaspoons freshly squeezed lemon juice (or vinegar)
1 cup of neutral-flavored oil (like light olive oil, grapeseed oil, walnut, or sweet almond oil)
A pinch of good quality salt
Preparation:
Separate the egg whites from the yolks. Set aside the egg whites for another purpose (like to make meringue) and place the egg yolks in the bowl.
Take the fresh lemon juice, pour it into the bowl with the egg yolks, and whisk them well.
Slowly pour the oil into the bowl (a few drops at a time) while whisking constantly. Once the mixture has thickened, pour the oil into a slow and steady stream. If the oil starts to build up, stop pouring and whisk the mixture briskly until the oil has incorporated.
If the mayonnaise becomes too thick, add enough water to thin it to the consistency you like. Add about a teaspoon of water at a time.
Once all the oil has been mixed in, the mayonnaise should be thick and fluffy, with your whisk forming ribbons through the mixture. Season it carefully with a pinch of salt. Add a small splash of water if you would like a thinner mayonnaise.
Store this homemade mayonnaise in the fridge in a covered container for three days.
Some Burger Dressing or Sauce Ideas:
You can add different ingredients to match your flavor and make your secret recipe. For example, try these ideas for your next burger:
Classic burger sauce: Mix equal parts tomato sauce, mayo, and mild mustard plus pickle brine to taste.
Spicy burger sauce: Mix tomato sauce with chutney, mustard, and hot sauce.
Ideal for fish and chicken burgers: Mix mayonnaise with your choice of chopped herbs, capers, pickles, chipotle chili, and lemon juice.
Asian-style sauces: Thai sweet chilly, Sriracha mayo, wasabi mayo, or gochujang.
Healthier ideas: Pesto, hummus, healthy BBQ sauce, tzatziki.