Have you ever had Pork Burgers? Just like beef, chicken, and buff, you can add pork to yet another burger recipe. These juicy Pork burgers are super delicious and flavorful, ready within 15 minutes quick, tasty lunch. In this article, we'll see how to make Pork patties for burgers.
A pork burger is an excellent alternative to beef hamburgers which is, in fact, said to be healthier than one made with beef. Pork has long been used in hamburger recipes to add extra flavor, but, over time, more cooks and diners began to appreciate burgers made entirely of pork. Basically, a pork burger is made with lean, ground pork, either stored, bought, or home-ground. Burgers made with pork are very versatile and can be made using a variety of seasonings, toppings, sauces, and buns. Simply put, you can do almost anything that you do to make a beef burger can be done to a pork burger. Now, let's see the ingredients required to make pork patties and their preparation.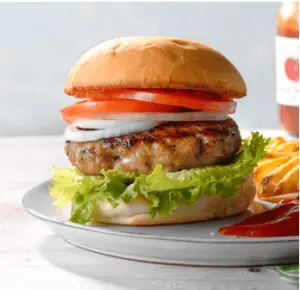 Why Pork Burgers?
There are a few reasons why you should try the Pork burgers:
Ground pork tastes much better than ground beef.
Pork has a slightly higher protein content than beef, making them a more filling and nutritious option for your burger.
Ground pork is cheaper than ground beef.
Ground pork burgers reheat better than beef burgers without getting tough or dry.
It has lower fat content making the patties easier to cook and keep intact.
How to Make Pork Patties for Burger?
The making of pork patties may differ as there are countless recipes for Pork burgers. Cooking pork patties is just as easy as cooking any other burger patties. You just need the ingredients like salt, pepper, other seasonings, and extra ingredients for great flavor.
Ingredients:
1 lb. ground pork
½ cup instant oats
1 egg, beaten
1 medium-sized onion or ½ cup finely chopped onions
1 inch or 1 ½ tbsp ginger paste or ½ tbsp dry ginger powder
1 teaspoon chopped garlic or ½ teaspoon garlic paste
2 to3 green chilies deseeded and finely chopped
1/2 teaspoon freshly ground black pepper
½ cup bread crumbs or rice flour
Salt as needed
4 to 6 tablespoons vegetable oil
Preparation of a Patty for Pork Burger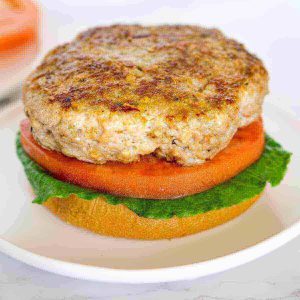 Take a frying pan and heat 1 teaspoon of oil in it. Add chopped onions, stir and fry until the onion turns translucent or light brown.
Take a big bowl and combine the ground pork, salt, and ½ freshly ground black pepper with egg, fried onions, and other ingredients. Mix them well and make sure to distribute the spices evenly.
Add oats into the mixture to absorb the extra juices from ground pork and ensures that the juice stays inside the patties.
Divide the mixture into five. Lightly wet your hands and roll the dough into four balls.
Set them into your palm and gently squeeze down to flatten into patties about 1-inch-thick, 4-inch-wide. Make sure all the patties are of the same thickness, so they cook evenly.
Preheat a large skillet (frying pan) to medium heat. Spray or brush the vegetable oil.
Carefully place the patties on the skillet, cover with a lid, and cook about 4 to 5 minutes per side until fully cooked to an internal temperature of 160 degrees Fahrenheit. (Note: Ground Pork needs to be cooked to an internal temperature of 160 degrees Fahrenheit / 70 degrees Celsius)
Note: Instead of pan-frying the pork patties, you can grill and cook them as mentioned above. If you want to bake them, place the pork patties inside the oven and bake for 25 to 35 minutes or until the pork's internal temperature is 160 degrees Fahrenheit.
Basically, you can make 4 large burgers or 6 smaller burgers using 1 lb. of ground pork. Remember that even though you're using only 1 lb. of ground pork, you're adding oats and eggs, bulking up these burgers quite a lot.
Tips and Techniques to Make Pork Patties
Ensure all powdered seasonings are dissolved with the liquid ingredient to properly mix all ingredients.
If you're using an oven for cooking patties, adjust the cooking time if needed since the internal temperature of different ovens may vary.
Replace breadcrumbs with oatmeal as oats absorb the extra juices from ground pork and ensure that the juice stays inside the patties.
Remember to put an egg as it ensures no funky stuff oozing out of the burger since the egg solidifies as it cooks and also solidifies anything else inside the patties.
Consider salt as a replacement for soy sauce.
For extra flavor, use other seasonings available in your kitchen.
After you've cooked the patties, place them between two buns, onions, tomatoes, and lettuce, and serve them. Now, you can enjoy your Pork burgers.