Award-Winning Burger Recipes
Cooking is definitely an art that not everyone can do, but only someone who is dedicated and has passion can do it. It's not everyone's cup of tea either. When I do think of cooking something that consumes less time is economically available too, I always do think of making a burger. It can be made at home also. But burger I make is not so unique; it would be somehow a way to make your leisure time enjoyable only. All the burgers are not created equal, and everyone can't make a burger that tastes better. Many TV shows are there to bring out the cooking talents and potentials of the person who are passionate and love cooking. Cooking Burger is a simple idea, but one who can make a perfect burger also do think of the time limit and economy. Everyone goes for the food that consumes less time with the ingredients which are available in the grocery nearby and also economically viable because everyone wants the generous price for the food. But here I want to let you know some award-winning burger recipes that are definitely going to blow your mind and make your mouth watering.
The Schlow Burger Recipes
The Schlow Burger is the award-winning recipe. It is the burger which is super easy to make as it is made simple with the ingredients like creamy horseradish sauce which can be made at home, cheddar cheese which adds the better taste and makes the burger juicy and tasty, crispy caramelized onions and definitely ground beef patty which is perfectly seasoned and grilled in the best way. It won the South Beach Wine & Food Festival People's Choice award.
The Fat Doug Recipes
The Fat Doug Burger is another award-winning recipe. It won the South Beach Wine & Food Festival's Burger Bash People's Choice Award. The burger consists of ingredients like a brioche bun, pastrami, coleslaw, stadium mustard, and creamy Swiss cheese, along with a juicy patty made with a mix of ground sirloin, ground boneless short rib and ground brisket. Everyone knows Michael Symon as he is seen in the daytime cooking show The Chew also he is seen in Iron Chef America, including his famous burger chain B Spot Burgers. It is the signature burger of b Spot Burger. This man also owns his restaurant where you can find this burger.
Kenny and Ziggy's In Queso Emergency Burger Recipes
To win an award recipe you make should be somehow different and promising in the taste and the ingredients that it is made up of also plays the role. Similarly, the spices that are used even the toppings that add flavor and make the burger special does count the number that you can gain in the competition. Kenny and Ziggy are the In Queso Emergency burger is massive, Gooey, Messy and is more burger than any reasonable human being could ever want to have. It's Patty is made with the short ground rib and skirt steak from Pat LaFrieda of half a pound, and the toppings used lettuce, thinly sliced tomato, pepper jack, avocado, black label bacon, chipotle mayo, and onion strings, in between a challah bun which is roasted before making the burger. It is so worthy that it won an award Zagat's Best Burgers in America Winner.
The Logan County Hamburger Recipes
How many of you love to get better ideas of cooking from your elder ones? Everyone wants to make of their own and get bored to get instructions from someone other. But it is proved that it not a bad idea to get the ideas to cook from the elders one. Because they can guide you well about the combinations and the flavors that the food gives with the perfect combination. Here is another award-winning burger recipe which has a different story. It was the combination invented by the winner's grandmother which she made it and won the award. She made worth out of her grandmother's inspiration.
The Logan County Hamburger won the award New York Wine & Food Festival Burger, Bash. It was made by Katie Lee who featured in her cookbook, The Comfort Table also. The Combination was so simple and made up of inexpensive ingredients that could be made during your free time. According to her, this recipe came from her old grandmother, who invented its combination with cheap ingredients like beef, crispy bread, melted cheese, a yellow onion which is simple, really delicious and inexpensive.
Animal's Boner Burger Recipes
Some time to give the extra name of the recipe is so catchy. So is Animal's Boner Burge, As the name is so extra. It is so funny to listen to the name of a burger that consists of an animal. Aside from its name, an animal is not a burger joint at all. It won Best New Burger in Los Angeles 2015 sounds a little awkward. But yeah It was awarded and is in the list of award-winning burger now. The ingredients like house-ground short rib, chuck, and bone marrow, yes you read correctly, with the toppings like  jack cheese, poblano chili, caramelized onion,  and Animals's secret 420 Sauce (a deliciously tangy secret sauce in which mustard and barbecue sauce are mixed together), stuffed between the two slices of toasted marble rye. In this recipe that unusual ingredient used is bone marrow which is the secret of its menu.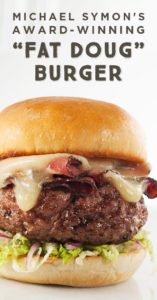 Original Joe's Hamburger Sandwich Recipes
The taste and flavor of the foods go changing as time passes; it is almost hard and impossible to keep the same taste for an extended period. But the interesting fact is that it is proved, the taste of the recipe can be kept the same for a long time also. It's not other than Original Joe's Hamburger.
Original Joe's Hamburger won Best Classic Burger Winner of SF Weekly award. What is interesting about this burger is that this recipe has been of the same taste since the restaurant opened in 1937. Many people may think how is this possible, but it is the truth. The ingredients used are a thick juicy patty, plopped on two halves of buttered, toasted Italian sourdough bread and garnished with grilled onions and some cheese. And this is the reason why no fancy glaze, no bullshit frills too: just a quality, wholesome American classic.
Related Links:
List of Egg Recipe