20 Amazing Burger Recipe
Spicy Kimchi Burger Spicy Kimchi Burger is one of the top burger recipes where, Ingredients like sesame-Scallion Mayonnaise or mayonnaise of choice, one cup shredded cabbage, one cup bottled spicy kimchi finely chopped, 1 ¼ pound of ground beef, one tsp fish sauce, and burger

buns. You can make patty by frying on the pan or by grilling or by barbecued. Make sure that you will cook them well so that it would be tastier and juicer. Flavors vary between different brands of kimchi used in the burgers. When testing, the favorite brands may be Wang Kimchi and Korea Kim Chee Because they give the most Heat and boldest Flavors. Now you can prepare and enjoy a fantastic burger recipe.
Sesame Seed Crusted Spinach Salmon Burger
The Combination of salmon spinach panko one tsp lemon juice ginger soy sauce one tsp sesame seeds salt and pepper give great and juicy taste to the burger. Forming the patty of 3-4 inch is the better idea and should be dipped into the seeds of sesame to coat. You can also put yogurt dill garlic and remaining lemon juice. Cook the patties over medium heat turning 3-4 mins per side until golden brown and cooked through. Grill the buns cut into two halves for nearly two mins until golden brown. And you can add the toppings like tomato sauce and can serve them immediately.
Pizza Burger
Ingredients like pizza sauce, ground beef, sliced pepperoni, mozzarella cheese, sliced fresh mushroom butter, grated Parmesan cheese, sliced green pepper, and ripe olives. Make the patties by topping with pizza sauce, pepperoni, cheese and grill them over medium heat on each side until the thermometer reads 160 degree and juices run clear. Meanwhile, in a small skillet, saute mushrooms in butter. Cover and cook until the cheese is melted. Serve burgers on Texas toast with mushrooms, olives If desired.
Greek Burger
In the preparation of greek burger the vital thing is plain greek yogurt, and other ingredients like fresh lemon, minced garlic, grounded meat of your own choice  sun-dried tomatoes, sliced onions, frozen spinach cut into tiny pieces, bread crumbs to give it a shape, egg, sliced cucumber, buns and salt pepper for the tastier result. While preparing the yogurt sauce, you need ¼ tsp minced garlic, dry dill, juice of lemon and salt. Stir everything to combine and then refrigerate to allow the flavors to blend while you make the burgers.
Buffalo Turkey Burgers With Broccoli Slaw
The ingredients like ground turkey meat can form patties, broccoli slaw, carrots, garlic, onion, salt, pepper, and can be bound with bread crumbs also you can use the toppings like sliced onions, tomatoes and then hot sauce, skinny blue cheese dressing. While grilling the patties lightly spray oil .cut the bun into two halves and then make burger which you can serve immediately.
Vietnamese-Style Bahn Mi Burger
In this burger ingredient like carrot, coarsely shredded, sugar, unseasoned rice vinegar, tomato paste, mayonnaise tabasco, garlic minced or paste kosher salt and pepper. You can make patties of your own choice, choose your ground meat it, mix it well with the ingredients, shape it well, bind it, and then cook it well as your taste and flavor. You may fry them can grill them or barbecued. This would be going to be tastier and juicer burger if you make your own.
Thai Turkey With Spicy Peanut Sauce
In this burger, spicy peanut sauce is used, which is the essential things as a condiment. And the patties are made with turkey meat adding sliced tomatoes chopped onions garlic paste, using curry powder as the spice. This burger tastes greater as the turkey meat is used to make sure that the patty formed won't lose its juices. Also to make it juicer and tastier you should use a little oil or fat while frying or grilling the patty. After making the patty, you can make the burger of your own, adding the toppings in between the roasted buns and then using the condiments you can also add the taste to the burger.
8.Pineapple Swiss Hot Hawaiian Burger
Fresh ground beef, Kosher salt, freshly ground black pepper mayonnaise sriracha-style hot sauce, spam slices fresh pineapple, about the same size as a Spam slice, Swiss cheese English muffins, are used as the ingredients. As other burgers you can form the patties but broader than the English muffins you need to Season generously with salt, pepper and set aside. Combine mayo and sriracha in a bowl then Set it aside. Now it is time to cook the patty you can either fry or grill or BBQ it and then top each burger patty with 1 slice cheese. Spam and pineapple slices on should also be grilled occasionally turning, until heated through and well charred. When this all is done, you should toast English muffins on the grill. Top with a slice of pineapple adds burger patty and top with spam slices. You can add sriracha mayo, then close burger.
Black Lentil Pumpkin Veggie Burger
The meatless burger does not mean tasteless burger; the mouthwatering patties can be made with earthy, umami black lentils and creamy pumpkin. These yummy patties can be served as burgers on a whole grain bun, or bun-less with a green salad. You can try this recipe at home also.
Lamb Burger With Yogurt Sauce
You can mix lamb, parsley, onion, salt, pepper, and allspice in the bowl until just combined
You need not to overwork on the patties, or they will be tough. You can grill the patties using a charcoal grill,
Mix yogurt sauce with minced mint, lemon, juice, salt pepper garlic clove and stir it well. When your burger buns are ready, place the patty in between and yogurt sauce and other toppings as well and then serve.
Wasabi Salmon Burger With Edamame Cilantro Pesto
Ingredients like soft tofu, red sockeye salmon, drained, bones and skin, boneless and skinless pink salmon, Chopped chives fresh Dijon mustard wasabi paste, black pepper, white part of egg, Japanese breadcrumbs (panko), oil, lettuce leaves, buns with sesame seeds thinly sliced tomatoes, red onion slices and Edamame –Cilantro Pesto is used.
Portobello Mushroom Burger
In a small bowl whisk together vinegar, oil, basil, oregano, garlic paste, salt, and black pepper. Pour over the Portobello mushrooms. Let stand at room temperature for 15 minutes or so, turning twice. Grill them with medium-high heat brushing with little oil and add the cheese during the last minutes of grilling. After grilling place them in between the buns and add the toppings and you can serve them.
Parmesan Artichoke Burger
Ingredients like lean ground beef, shaved Parmesan cheese, roughly chopped, marinated artichoke hearts, Ranch salad for dressing .you can combine the beef with the cheese, artichokes and Ranch dressing in a mixing bowl.  You may use your hands to mix everything thoroughly.  Season well with salt and black pepper your taste. Now form the patties and grill them. You might also like to create your own mini cheeseburger tablespoons Ranch salad dressing Salt and pepper, which is another list of Amazing Burger Recipe
14.50/50 Burger
Which is another list of Amazing Burger Recipes you can make with ingredients like ground beef ground bacon salt and pepper to taste cheddar cheese Jack cheese vegetable oil for grilling tomatoes lettuce onions avocado mayonnaise mustard ketchup
is used. Mix the ingredients and form the patties grill them until they become golden brown
Put a piece of cheddar and jack cheese over the patty and allow the cheese to melt before two minutes of grilling and placing them aside. Now assemble two patties onto one another add the remaining toppings and condiments of your choice and close the bun. Now you can serve it.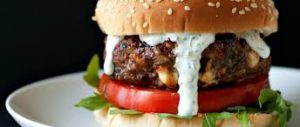 Thai Turkey With Spicy Peanut Sauce
In this burger ground meat is of turkey which consists of low fat and peanut sauce is used. Mix the turkey, peanut sauce, green onions, cilantro, egg, and bread crumbs in a large bowl and form the patties grill them. Season them as you desire to add the toppings and them serve them as you wish to.
Lemon Garlic Tuna Burger
It is highly nutritious burger as it consists of ingredients like cans tuna fish, panko breadcrumbs, scallions finely chopped, lemon, garlic paste, sour cream, and egg salt and pepper. You can make the patty by missing all the mentioned ingredients and form patties and cook the way you like either by frying or grilling them. Roast the burger buns with English muffins and then add the toppings like lettuce and sliced toppings and you can serve them immediately. Which another list of Amazing Burger Recipe.
17.Aussie Burger
Ground beef, pineapple rings, large eggs, Asian chili paste such as sambal oelek ketchup, mayonnaise, vegetable oil, sliced pickled beets, Kaiser rolls are the ingredients used. Form the patties of the beef and grill them .similarly grill pineapple and burger buns too in little oil until pineapple is tender and caramelized. Then fry the eggs. Now Spread chilled mayonnaise on rolls assemble burgers with pineapple, eggs, beets, lettuce, and tomato. Now It is ready to be served.
Quinoa Parmesan Burger
It is made up of ingredients like cooked quinoa at room temperature fried eggs, yellow onion finely chopped And freshly grated Parmesan Cheese.
Goat Cheese Stuffed Burger With Tangy Peach BBQ Sauce
Which is another list of Amazing Burger Recipes you can make Mix turkey, egg, chopped onion, minced garlic, ketchup, mustard, Worcestershire sauce, salt, and black pepper in a large bowl. Shape the patty, sprinkle with fresh ground black pepper and add goat cheese. Now you need to grill the patty as it becomes golden brown. While the patty is being grilled prepare Tangy Peach BBQ sauce. Once the burger and the patty are cooked place the patty in between the burger add the toppings and serve it with the tangy peach BBQ sauce which adds better taste and flavor to the burger.
Spicy Black Bean Veggie Burger
Which is another list of Amazing Burger Recipe you can make In a separate bowl mash black beans until they reach a paste-like consistency. In another bowl Whisk egg, chili-garlic sauce, chili powder together. Stir jalapeno pepper garlic and corn through black bean paste and mix the egg too. To bind the mixture put the bread crumbs or rice flour. Now form the patties, and cook the way you like to. After the patties are formed place them in between the buns which should be roasted and then add the toppings and condiment. You can serve them now.
.
20.Nacho Burger
Combine beef which is another list of Amazing Burger Recipe you can make with Kosher salt, lots of coarse black pepper, Worcestershire and chipotle purée, and form the patties that are thinner at the center and thicker at the edges for even cooking. Grill the patty also top the buns with cheese and place chips under the broiler as they become crisp and the cheese gets melt. Lastly Assemble the burgers with Lettuce patty, bean toppings cheesy chips jalapeno rings and salsa.